Save Life / SaveLife.in.ua / Come Back Alive / Повернись живим is a Ukrainian NGO that was created by Vitaliy Deynega in 2014 to help provide bulletproof vests to soldiers fighting Russian backed separatists in Donbas.
Update: After a few days, I can see a confirmation of my wire within their Financial Statements. The statements can be found by visiting https://savelife.in.ua/en/donate/, scrolling to the bottom of the page, and clicking on the link for "2021-2022 years".
Update 2: I just saw on my mobile banking app that TD Bank is refunding wire transfers to Ukraine from February 17, 2022. You can check with your bank to see if they are doing the same.
Here are some links about the organization:
SaveLife.in.ua – https://savelife.in.ua/donate/en/
Wikipedia – https://en.wikipedia.org/wiki/Come_Back_Alive
Facebook – https://www.facebook.com/backandalive/
Today, it is a major volunteer fund for body armor, equipment, night vision, etc. for front line troops fighting a war against Russia. Yesterday, Patreon suspended their account that had about $250,000 donated to it.
On their site, https://savelife.in.ua/en/donate/, they offer several payment options. If you click the "To Contribute" button, it will take you a page on Privat24.ua (in Ukrainian) which is PrivatBank, the largest commercial bank in Ukraine. For international transfers, their options are Fondy, a London based payment processor, details to send a wire transfer and their bitcoin wallet address.
If you haven't sent a wire before, you will need to visit your bank or nonbank provider, such as Western Union, and provide them with details related to who will receive the money. It is a very fast way to send money but once the wire is sent, you have no recourse on getting your money back so be 100% sure that the information entered is correct. There are also some fees involved for most accounts so you may want to call your bank or look up fees online.  The fees for me were $50 to send the transfer and there is an estimated $25 fee for Save Life / Come Back Alive.
Before you leave to send the wire, please visit https://savelife.in.ua/en/donate/ and print out the details under the SWIFT section including the IBAN Code, Name of the Bank, Bank SWIFT Code, Company Address and maybe the purpose of payment. If you are sending US Dollars, use their US Dollar IBAN Code. Once you get to your bank, you will either need to provide them with funds to use or use available funds from your account. Then they will input the details from your print out and provide you with copies to review. One item to note is that the full name might be too long for your bank. For my transfer, I used "International Charitable Foundation" and the bank included the full name in the notes that were sent with the wire. The account # and address should help ensure that the wire goes to the correct place. Make sure to double check all information is correct. From there, you will sign the documents and the wire will be sent.
Below are scans of documents you may be given to review and sign.
SWIFT Wire Transfer Details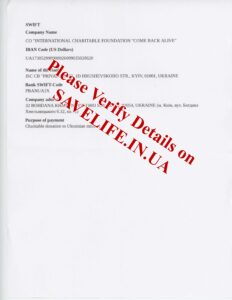 Wire Authorization Form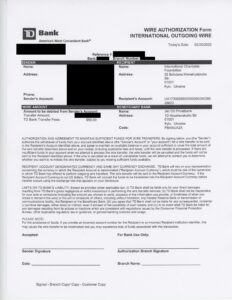 Pre-payment Disclosure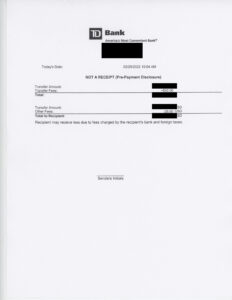 Receipt